For our clients and your loved ones
Our highest priority is to protect our clients and your loved ones. To that end, we are in constant communication with both our clients and their providers to alert them of any new covid-19 related developments. All current and new providers have been given specific and thorough Covid-19 training which includes: effective hygiene strategies, surface sanitization methods, symptom pre-screening, PPE donning and doffing training, PPE usage and conservation instruction as well as a directive that they must notify the agency of any symptoms both from themselves, our clients, as well as any household members or any visitors that enter the home during their shift. Your loved ones are safe in our care.
Delta Variant Advisory: A Delta variant of the Covid-19 Virus is spreading all around the world, nation, state, and region. The best defense against the Covid-19 virus is vaccination along with screenings, masks (regardless of vaccination status), and social distancing (6 feet).
---
Essential Service Screening Process
ATTENTION: Providers / Attendants – Prior to providing services you are required to screen yourself, our clients, anyone else in the client's home, and anyone who comes into the home during your shift. Usage of surgical masks is mandatory while conducting work and providing services to our clients.
Did you, your client, anyone in your client's home, or anyone entering the clients home:
Have new covid-related symptoms such as: cough, shortness of breath, chills, muscle pain, headache, sore throat, new loss of taste or smell.
Have a fever of above 100.0 F°
Have been in close contact with someone diagnosed with COVID-19 in the past 14 days.
Have been told by a health care provider you might have COVID-19.
Please call the agency if you have any questions (956) 720-4490

See published notices:
1. COVID-19: Guidance for Community Attendants and InHome Caregivers
2. Agency-Based In-Home Caregivers Screening Flowchart
---
Primary Home Care is an essential service during a shelter-in-place order
We are authorized to continue to provide essential services to our clients throughout this crisis even during a curfew or shelter in place orders.
Allowed activities during a shelter-in-place order:
Travel to and from an essential business – working as an attendant for our client is considered essential
Traveling to and from a grocery store, pharmacy, gas station
Traveling to or from a family member whom you care for
Performing outdoor activities such as walking, running, hiking, biking – only if you follow social distancing guidelines
Allowed activities during a curfew order:
Travel to and from an essential business – working as an attendant for our client is considered essential
Please show any authorities this notice if you have any issues traveling to or from your attendant services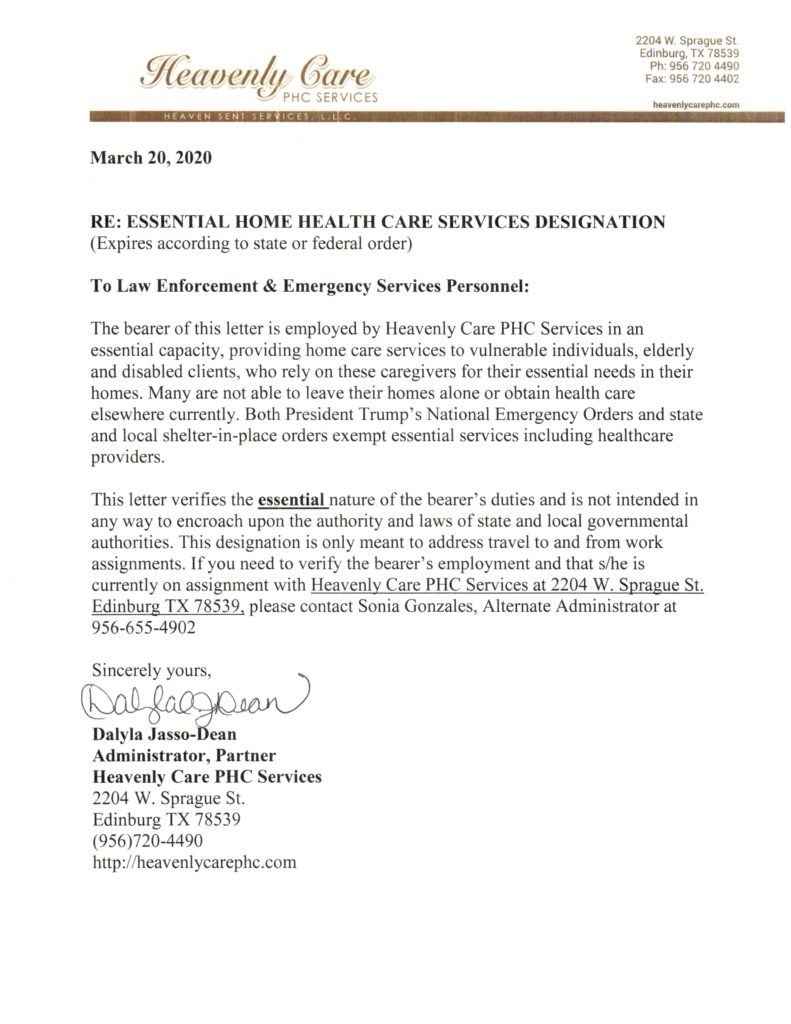 ---
Recent Developments
Valley Central
An error has occurred, which probably means the feed is down. Try again later.
CDC
Resources
Covid-19 Info
Covid-19 is a type of coronavirus that currently has no cure or vaccine. It is a virus that causes respiratory issues. The immune-suppressed and the elderly are the most at risk. The main reason why Covid-19 spreads so easily is that after exposure a person can spread the virus between 2-14 days (average 5 days) before they develop any symptoms.
How it's Spread
Coronavirus (COVID-19) is spread from person to person through the water droplets from an infected person when they sneeze or cough. These droplets can possibly be in the air within 6 feet of a cough or sneeze, land on surfaces, or on the hands of an infected person. This can then pass on to a healthy person if they inhale the cough or sneeze particles, or when they touch surfaces or the hands of an infected individual. It enters the body when their now-infected hands then touch their own mouth, nose, or eyes.
How to protect yourself
Practice exceptional hygiene

Wash your hands every time before and/or after you make contact with a person, yourself, or a common surface (keyboard, mouse, doorknob, handle, etc)
Wash with hot water and soap for 20 seconds

Use hand sanitizer
Avoid touching your eyes, nose, and mouth before first washing or sanitizing your hands.

Avoid close contact from anyone
Cover coughs and sneezes into the pit of your elbow, or your hands. Do not let yourself cough into the open air.
Constantly clean common surfaces like phones, tables, mice, keyboards, door knobs, etc.
How to Prepare
The primary reason you will need to prepare for an extended time (1-2 weeks) is only in the event of self-isolation so you have enough individual food for yourself. If you have no way to have food delivered to you during this time, the best thing will be to have a short stock of food.
What to get:
Frozen food – meats, veggies
Canned Food – tuna, beans, fruits, veggies
Pastas
Water
Hoarding supplies from grocery stores is harmful. There are no known supply shortages of any grocery product. The current shortages we are experiencing are a result of massive amounts of people engaging in panic, and emptying current stocks of supplies. As a result, people who are regularly in need of these supplies such as the very sick, elderly, nursing homes, hospice care, cancer patients, and others are being negatively impacted.

Readiness checklist for individuals and families
What are the Symptoms
Fever
Shortness of breath
Cough
What if I get sick
Stay home

Don't expose anyone else if you are sick, whether it's the flu, cold, or COVID-19.

Self-Isolate

Even within your home, limit your contact with any other roommates, family members, or visiting friends who may go out into the public.

Wear a face mask

If you are infected, a face mask can collect the droplets you cough, sneeze, or breath out. This will protect others from inhaling the droplets or touching surfaces where the droplets may have landed.

Cover your coughs and Sneezes

If you don't have a face mask, do you best to cover your coughs and sneezes at all times

Check Your Symptoms

Seek medical attention if your symptoms persists or get worse

Get Tested

Because the symptoms of COVID-19 are very general it will take a referral from your doctor to get tested at a facility.